Pilots at SGL
To Adventurous and Enthusiastic Pilots

Sander Geophysics is looking for enthusiastic, safe and adventurous pilots to join our worldwide operations team.
What Do Pilots at SGL Do
Pilots at Sander Geophysics (SGL) conduct high precision low level day VFR flights to collect data for the company's geophysical operations. Company pilots also ferry the aircraft under IFR to worldwide survey locations. All flight operations conducted at SGL involve two crew. An aerial survey may last a few days or may span multiple years but usually the flying portion of a survey lasts a few weeks to several months. Each field crew typically consists of one or more geophysicists, an AME, pilots, and a technician.

Why Work for SGL
SGL provides a unique and challenging experience for pilots providing the ability to create a lifetime of incredible memories exploring the world that is unmatched at any other job. Flying low, sometimes as low as 60 meters, truly gives you the opportunity to see things from a bird's-eye view. Additional job perks and benefits include, but are not limited to: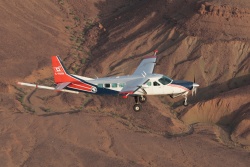 Extended periods of time off (4 weeks at a time and greater);
SGL pilots can choose to live anywhere in the world. In the past, pilots have chosen to live in Peru, Thailand, Croatia and India and also various locations in Canada;
Pilot self-dispatch means pilots are continually supported and supervised from Ottawa as required, but work autonomously and independently;
Day VFR flying means a relatively consistent schedule, which significantly reduces the fatigue associated with reporting for duty at odd hours and continually crossing time zones;
Time off at survey locations can be spent taking advantage of what the local area has to offer. Crew members in the past have enjoyed scuba diving, sailing, mountain biking, kayaking (with humpback whales), hiking, surfing, swimming, exploring and also learning about and experiencing the region's culture etc., and
Being part of a team that works together to fulfill the task of acquiring data in the survey flying portion of a project.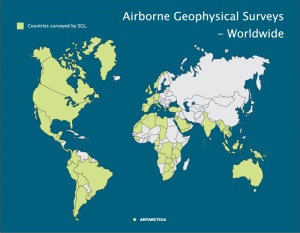 Sander Geophysics is aware that the job brings some unique challenges for any individual. Pilots are provided with a comfortable and confidence inspiring learning environment and support is offered 24/7. Pilots are encouraged to fly safely and efficiently. Conservative decision-making is encouraged and pilots are fully supported. Who SGL is Looking For outlines the company's requirements and priorities for new pilot hires.
Licensing for pilots and personnel in Canada
Sander Geophysics owns eight Cessna 208B Grand Caravans, two de Havilland DHC-6 Twin Otters, and two Airbus Helicopters AS350 B3s.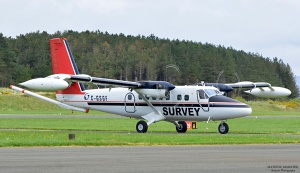 A Day in the Life
A day in the life of a survey pilot starts the night before. Pilots group together to plan the next day's work. The crew may go out for supper together. If you're in a hot climate, you would buy water and put a few bottles in your hotel room fridge freezer. The project's lead field pilot will coordinate the departure to the airport in the morning.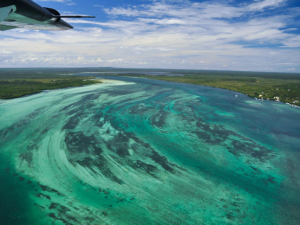 The day often starts before sunrise. The crew meets up for breakfast and reviews any last minute changes and then heads over to the airport. How difficult or easy it is to access the aircraft depends on the airport you are operating from. At the aircraft, captain and copilot divide preflight duties.
Survey flights are 6 to 8 hours long depending on the survey equipment configuration. Perhaps there will be pristine snow capped mountains, or thick dense jungle to view today, the shifting sands of a vast desert or perhaps you may spot a herd of caribou. During the flight, you stay hydrated and fed with what you brought. The flight crew may bring music or podcasts to listen to on a wired connection to their headset. This is only really possible in quiet airspace; if you are near a control zone, there often is too much radio chatter to listen to music.
The airplane lands and taxis back to its parking spot. Hopefully the fuel truck is there waiting. You monitor the fueling while "putting the airplane to bed" (plugs and tie-downs). The Captain fills in the logbook with the times and snags. The iPad is updated with the correct times and the lines are crossed off. You may have to wait for the other SGL plane to arrive back at the survey base.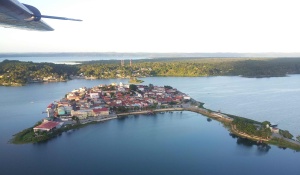 The crew drives back to the hotel. Once there you go to the field office and give the Garmin to the Crew Chief/Geophysicist. You fill them in on any complication you may have had on the flight and pass on anything relevant to them. You upload the paperwork and email the times.
Plans are made for supper with your crew mates. But the afternoon may be taken up with a trip to the gym or doing groceries.
The evening will involve planning, dinner, and perhaps Netflix then bed. Hopefully there are no noisy neighbours at the hotel and you're in bed early to get a good night's rest as the morning comes quick.
What SGL Offers You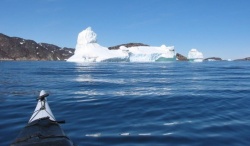 SGL pilots work on a 9 week on, 4 week off rotation in the field.
SGL values a work-life balance and does its best to accommodate vacations and time off.
Copilots may advance from junior to senior ranks when necessary milestones are met and then onto the company's pilot in command under mentor (PICUM) program. Career Progression provides more detail on the promotion steps.
SGL has supplementary medical, dental, life insurance, long-term disability and international travel medical coverage, and the health benefits are extended to spouses and children.
SGL offers 15 days of paid sick leave available annually and it may be carried forward to a maximum of 75 days.
Travel expenses are paid to and from a field location, including flights, taxi rides, mileage in a personal vehicle, etc.
Field accommodations are paid for each night spent working in the field, traveling, on course away from home, or working in the office in Ottawa (if Ottawa or the surrounding area is not where a person resides).
Per diems are paid for each day spent working in the field, traveling, on course away from home, or working in the office in Ottawa (if Ottawa or the surrounding area is not where the person resides).
SGL pays a clothing allowance of $150 annually to all employees who have participated in at least one field project per year. This payment is in recognition of the fact that there are some extra clothing requirements for fieldwork.
SGL pays pilot medicals and license renewal fees as well as IFR renewal training and check rides (once pre-approved by the chief pilot).
SGL pays for pilots to attend a 10-day Cessna Caravan initial training course in Wichita, Kansas when advancing from the copilot to captain rank.
The experience and qualifications of a pilot determines their pay scale placing and thus their wage on the SGL Pilot Pay Scale.
Why SGL?
SGL is a world class establishment and a leader in the airborne geophysical survey business. We are looking for committed and adventurous pilots. SGL stands out due to its positive and open attitude and for the opportunities it provides and its commitment to safety. Sander Geophysics is a founding member of the International Airborne Geophysics Safety Association (IAGSA) which promotes the safe operation of helicopters and fixed-wing aircraft on airborne geophysical surveys. SGL has operated in every continent including Antarctica, and this allows you the chance to see the world while working. Please see details regarding the Hiring Process.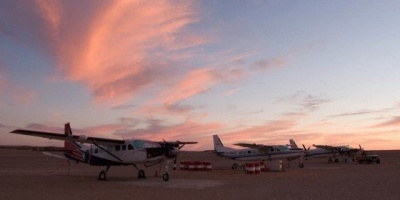 Submit your application to careers@sgl.com.
Thank you for your interest in Sander Geophysics!