Office Activities
A wide variety of activities take place at the head office in Ottawa.
Annual Events
chili cook-off
pancake breakfast
ice cream on the office roof (a few times in the summer)
employee appreciation barbecue
cross-country ski day
curling evening
children's Christmas party
adult Christmas party
Ongoing Events
Barbecue Every Few Months
What?
from sausages, burgers to roast chicken with corn on the cob, pulled pork and Mexican (with freshly made guacamole and pico de gallo) ...
Where?
either in the second floor kitchen overlooking the airport, in the hangar or outside beside the volleyball court
Recreation
running club
yoga
exercise class: inside or outside at a nearby green space in warmer weather
SGL gym available 24/7
volleyball on SGL's outdoor court in the summer
hockey at a local outdoor rink in the winter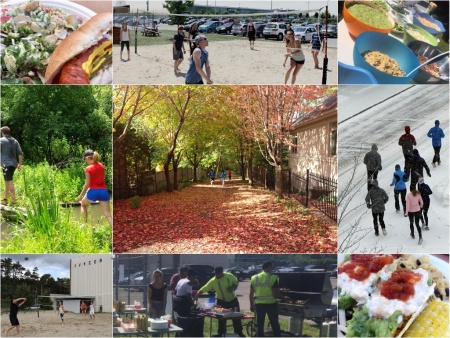 Language Classes
beginner and intermediate Spanish and French classes once a week
OttawaReads
SGL has given time once a week for the SGL OttawaReads group to volunteer to read one-on-one to kindergarten children at a local public school that has a significant number of newcomers to Canada, to encourage the enhancement of the students literacy skills.