| | | |
| --- | --- | --- |
| Registration: | C-GSGX | C-GSGR |
| Serial #: | 596 | 2107 |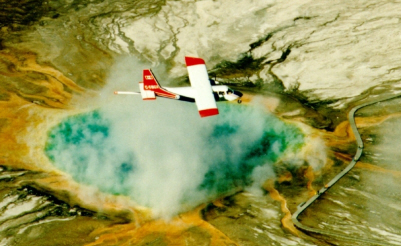 The BN2B Islander is an all metal, high wing, twin-engine, short take-off and landing aircraft powered by two fuel injected engines which drive constant speed, fully feathering propellers.  The aircraft has fixed tricycle landing gear, extendable flaps and manually adjustable trim tabs on the rudder and elevator.  The aircraft is equipped with de-icing equipment and sufficient avionics for instrument flying.  Because of its low takeoff speed, high wing, ample propeller clearance, and sturdy fixed landing gear, the Islander is capable of operating from relatively short and rough airstrips.  Its excellent low speed capabilities enable it to safely contour much steeper terrain than most other fixed-wing aircraft.  Supplementary fuel can be added for transoceanic flight.
The aircraft has an aluminum and composite 2.5 m tail stinger designed to accommodate the magnetometer sensor and wiring.  The stinger can be easily removed and the aircraft returned to its original configuration.  There is a camera hole in the belly and provisions for numerous other survey and navigation systems.
The electrical system has been modified to reduce the magnetic field variations around the aircraft.
Britten-Norman BN2B-21 Islander Specifications
Crew Capacity:
Two pilots, one operator (optional)
Fuselage:
Wings:
Cantilever, high-wing
Outboard ailerons
Single-slotted inboard flaps
Tail:
Conventional stabilizers
Elevator and rudder with trim tabs
Power Plant:
Two Lycoming IO-540, 300 hp, six cylinder, horizontally-opposed air-cooled, fuel-injected, reciprocating engines, overhaul 2,000 hours
Hartzell two-blade, fully-feathering, constant-speed propellers, overhaul 2,000 hours or 5 years
Systems:
Dual flight controls, IFR instruments and avionics
Full airframe and propeller de-icing 2-axis autopilot
Dimensions:
| | | |
| --- | --- | --- |
| Wing span | 53 ft | 16.15 m |
| Exterior length | 35 ft 8 in | 10.9 m plus stinger |
| Exterior height | 13 ft 9 in | 4.18 m |
| Interior usable length | 15 ft 2 in | 4.62 m |
| Interior usable width | 3 ft 7 in | 1.09 m |
| Interior height | 4 ft 2 in | 1.26 m |
| Fuel capacity | 189 US gallons | 700 l usable |
Weights:
| | | |
| --- | --- | --- |
| Empty | 4,190 lb | 1,901 kg |
| Maximum take off | 6,600 lb | 2,994 kg |
Performance (sea level, standard day, maximum take off weight ):
| | | |
| --- | --- | --- |
| Range at 60% power | 760 nm | 1,408 km plus reserve |
| Cruise airspeed at 60% power | 121 kt | 224 km/h |
| Fuel flow at 60% power | 25.5 US gallons/h | 97 l/h |
| Stall airspeed, landing config | 40 kt | 74 km/h |
| Service ceiling | 17,200 ft | 5,242 m |
| Minimum required runway length | 2,000 ft | 610 m |
| Two engine rate of climb | 1,130 ft/min | 344 m/min |
| Maximum sustained climb gradient | 700 ft/nm | 115 m/km |
| Single engine rate of climb | 223 ft/min | 69 m/min |
Maximum Endurance:
6 hours 40 minutes plus 45 minutes reserve at 60% power
Type of Aviation Fuel:
Geophysical Capabilities
AIRGrav, SGL airborne gravimeter
Magnetic total field
Gamma-ray spectrometer, up to 42 litres (2560 in3) of detector crystals
SGMethane, methane gas sensing

Other Features:
Tail stinger, 2.5 m long, 21 cm in diameter, capable of housing a 5.5 kg sensor
HF radio
Video camera mount with glass covered opening in aircraft belly
Two instrument racks, standard 48 cm (19 in) width
Radar altimeter, 0-3,000 m
Electrical power capacity 28 VDC at 140 amp
GPS receiver and antenna plus data link for real-time corrections