| | | |
| --- | --- | --- |
| Registration: | C-GSGH | C-FXPL |
| Serial #: | 3748 | 4881 |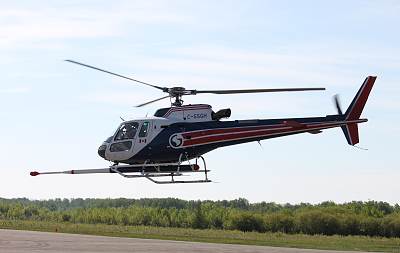 The AS350 B3 is a modern high performance light helicopter powered by a Turbomeca Arriel turboshaft engine.  These engines have an unrivalled safety record.  Further enhancing safety, SGL's new B3 has a dual hydraulic system and a full FADEC engine control and monitoring system.  The helicopter's endurance is between two and four hours depending on the survey set up.  This helicopters performance and effectiveness has been proven on numerous projects worldwide.
Geophysical Surveying
Both SGH and XPL have been outfitted for low level airborne geophysical surveys.  Sensors are carried internally, or externally in towed "birds" on a cable with either single, or dual magnetometer configuration for vertical or horizontal gradient.  The helicopter is especially well suited to hot and high elevation conditions, including any operations with heavy load requirements.  The B3's reliable and powerful turbine engine, long endurance and high altitude capability make it an excellent survey aircraft.
Airbus Helicopters AS350 B3 Specifications
Crew Capacity:
General:
Fuselage comprising of the cabin and 3 luggage holds, cargo tie-down net and access doors
Tail boom with stabilizer, extended anti-torque rotor and fin
High skid landing gear capable of taking handling wheels
Power Plant:
Turbomeca Arriel 2B (SGH) and 2B1 (XPL) turboshaft engine rated at 847 shp for take-off and 730 shp for maximum continuous use
Systems:
| | |
| --- | --- |
| SGH | XPL |
| Dual flight controls, 3 main rotor and 1 tail rotor hydraulic servo units | Dual flight controls, 3 main rotor and 1 tail rotor hydraulic servo units with dual hydraulics |
| Digital engine control with manual backup | Full authority digital engine control (FADEC) |
| Cargo hook with electric and manual releases | Cargo hook with electric and manual releases |
Dimensions:
| | | |
| --- | --- | --- |
| Length (including rotor) | 42 ft 5 in | 12.94 m |
| Width | 8 ft 4 in | 2.53 m |
| Height | 10 ft 11 in | 3.33 m |
Weights:


SGH
XPL
Empty
3,022 lb
1,371 kg
3,130 lb
1,420 kg
Maximum gross weight
4,961 lb
2,250 kg
5,220 lb
2,370 kg
Useful load
1,939 lb
879 kg
2,090 lb
948 kg
Performance (sea level, standard day, maximum take-off weight):
| | | |
| --- | --- | --- |
| Maximum speed | 155 kt | 287 km/h |
| Fast cruise speed | 142 kt | 262 km/h |
| Recommended (economical) cruise speed | 124 kt | 230 km/h |
| Maximum 'bird' towing speed | 80 kt | 148 km/h |
| Hover out-of-ground effect (HOGE) at 2,250 kg | 11,500 ft ISA | 3,505 m ISA |
| Range at recommended cruise speed (plus 20 min reserve) | 314 nm | 582 km |
| Maximum rate of climb at 65 kt | 2,100 ft/min | 10.7 m/s |
| Maximum sustained climb gradient | 2,275 ft/nm | 374 m/km |
| Service ceiling | 23,000 ft | 7,010 m |
| Fuel capacity | 143 US gal | 540 l |
| Fuel flow | 50 US gal/h | 189 l/h |
Maximum Endurance (with 20 min reserve):
At recommended cruise speed:  2 hours and 32 minutes
At maximum endurance speed (55 knots):  4 hours
Geophysical Capabilities
AIRGrav, SGL airborne gravimeter
Magnetic total field with stinger (typical FOM 1.5 nT) or towed bird
Dual magnetometer vertical or horizontal gradient with a towed bird
Gamma-ray spectrometer, up to 42 litres (2,560 in3) of detector crystals
SGMethane, methane gas sensing

Additional Features:
VHF communication radios
Iridium satellite telephone and satellite tracking
GPS/VOR/ILS navigation equipment
Video camera mount with downward looking opening
Radar altimeter:  0-750 m
Electrical power capacity:  5.6 kW at 28 VDC, up to 2.8 kW available for equipment
Two instrument racks, standard 48 cm (19 in) width
Provision to mount an inertial navigation system (INS)
GPS antenna mounted on a tail fin (clear of rotor) plus data link for real-time corrections