| | | | |
| --- | --- | --- | --- |
| Registration: | C-FSGM | C-FSGN | C-FSDK |
| Serial #: | 42-105 | 42-AC061 | 42-AC071 |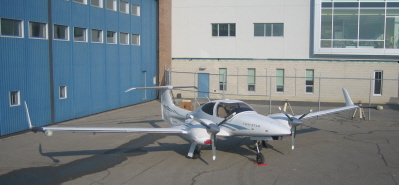 The DA42 Twin Star combines the benefits of outstanding safety and ideal flight characteristics. Ultra-light, high-strength composite materials are used throughout its construction.
The Engine
The DA42 Twin Star uses Thielert Centurion 2.0 litre turbodiesel engines that can run on either diesel or Jet A1 fuel. With just the standard tank (52 US gallons), the aircraft's sensationally efficient fuel consumption gives a maximum range of 900 nm, depending on power setting. With long range fuel tanks, range is increased to over 1300 nm.
The Avionics
Another groundbreaking innovation is the fully integrated DA42 Twin Star cockpit with its ultra-modern Garmin G1000 avionics system, which has at its heart, two large-format 38 cm colour TFT screens. The system is a modular design with open architecture.
Geophysical Survey Application
The airframe has been extensively modified to reduce the magnetic signature of the aircraft by replacing ferromagnetic parts with those made from advanced non-magnetic alloys. Several wiring changes have also been made to the electrical system to reduce the magnetic field variations around the aircraft.
The fully equipped DA42 can operate at a wide range of speeds, varying from a minimum survey speed of 90 knots to a maximum of 150 knots (IAS). No other aircraft can match the flexibility of the turbo diesel-powered DA42.
Diamond Aircraft DA42 Twin Star Specifications
Crew Capacity:
Two pilots or one pilot and one operator
Fuselage:
Semi-monocoque, all composite
Wings:
Cantilever, low wing
Outboard ailerons with trim tabs
Inboard split flap and outboard plain flap
Tail:
T-tail configuration
Elevators and rudder with trim tabs
Power Plant:
Two Thielert Centurion 2.0 litre (135 hp) engines, overhaul 1,000 hours
Two MT 3-blade constant speed, full feathering propellers, overhaul 1,500 hours
Airspeed, Fuel Consumption and Range:
| | | |
| --- | --- | --- |
| Maximum airspeed (IAS) | 359 km/h | 194 kt |
| Cruise speed at 80% and 10,000 ft (TAS) | 319 km/h | 172 kt |
| Fuel consumption at 80% and 10,000 ft | 47.3 l/h | 12.5 US gal/h |
| Range at 60% and 10,000 ft, standard tank | 1,652 km | 892 nm |
| Range at 60% and 10,000 ft, long range tank | 2,091 km | 1,129 nm |
Dimensions:
| | | |
| --- | --- | --- |
| Length | 8.56 m | 28 ft 1 in |
| Height | 2.49 m | 8 ft 2 in |
| Wing span | 13.42 m | 44 ft |
| Wing area | 16.29 m2 | 175.3 sq ft |
Weights:
| | | |
| --- | --- | --- |
| Empty | 1,250 kg | 2,756 lb |
| Maximum take-off weight (MTOW) | 1,785 kg | 3,935 lb |
| Payload | 535 kg | 1,179 lb |
Fuel Capacity:
| | | |
| --- | --- | --- |
| Standard tank | 197 l | 52 US gal |
| Long range tank | 280 l | 74 US gal |
Geophysical Capabilities
AIRGrav, SGL airborne gravimeter
Magnetic total field
Horizontal magnetic gradient
SGMethane, methane gas sensing

Other Features:
Wingtip stingers
VHF radio and satellite phone
Optional downward looking video camera and laser altimeter
Instrument rack, standard 48 cm (19 in) width
Electrical power capacity: 28 VDC at 120 amp
GPS receiver and antenna plus data link for real-time corrections
Iridium tracking